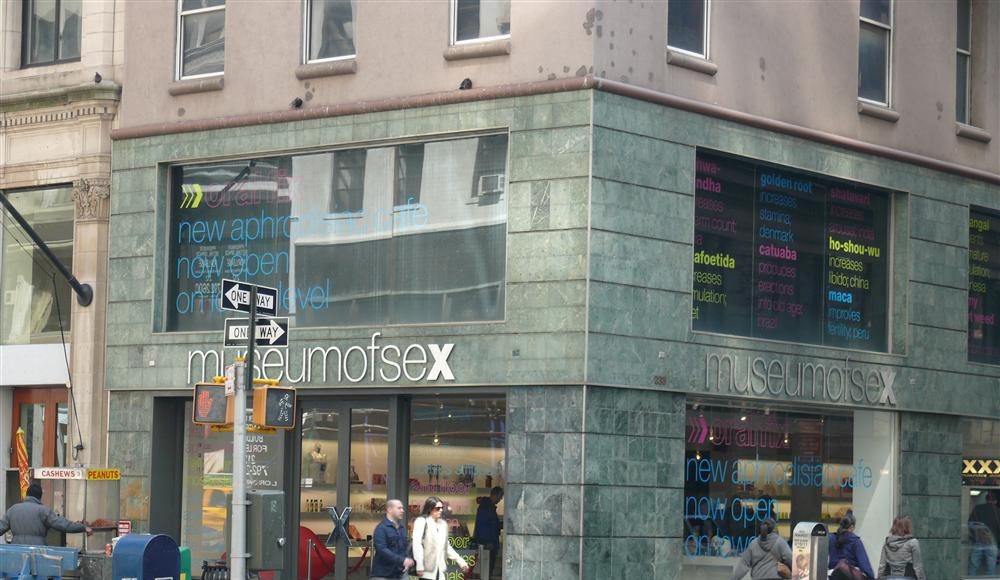 Attention: In this post, I do mention a lot of the more graphic things in the Museum of Sex so if you don't feel comfortable reading any of this it's totally fine!
I didn't know what to expect on my first visit to the Museum of Sex and my expectations were met and surpassed. I expected there to be a lot of vulgar content but it was actually all informative in terms of how sexuality has progressed from a fine artist to pornography to what we know from the celebrities and other sexually driven movements. So, to start the day, I ate at the Chipotle across the street with friends and then went inside and as soon as you walk in, you see vibrators, lube, and other sex related items. When you go farther back there are books, postcards, etc. The exhibits on display as of 2/24/2019: Leonor Fini: Theatre of Desire, 1930-1990, Punk Lust: Raw Provocation 1971-1985, Stag: The Illicit Origins of Pornographic Film, and Jump for Joy.
If you have seen any ads for The Museum of Sex, the content is usually Jump for Joy which is where you can pay for an additional $3.50 to bounce on the inflatable breasts. I opted out of that and paid 17.50 (student rate) and entered the exhibit. The exhibit is formatted in a way that I am not sure if anyone who has trouble walking up and down the stairs will have trouble getting around the exhibit. Please do check with the museum and their staff though because they may have an elevator that I may not have seen. Moving on, when you head upstairs the exhibit starts very dim. There is a video that shows photos and quotes and there are costume renderings and other paintings created by Leonor Fini. Every single piece of her work has a sexually driven motive whether it be objective or abstract. Personally, I really liked more of her abstract work.
On the third level of the Museum, you enter a brighter and colder room that has more of her work. I personally enjoyed this level because the painting I was drawn to was hanging. You can see it above. This had a more airy feeling in the exhibit and felt more open. On the fourth level is where things became overwhelming. The Punk Lust exhibit fell flat for me because it felt like it was more a scrapbook than a curated piece. I saw articles, photos, and costumes that didn't really feel like they correlated to capture the punk movement in the 70's and 80's. I felt like I was just seeing all the photos available rather than a true selection of what this movement meant. I also felt that the descriptions weren't that informative as they were for the Leonor Fini exhibit. Going down one floor, I entered a dark room that showed the Stag exhibit which showed pornographic films dating all the way back to 1905. Now, it was startling at first but the way that it was curated really informed the culture of pornography and the history to support how it is such a prevalent thing in the modern world.
Overall, I would say that this museum is definitely worth it if there is a good exhibit. One of the friends I was with stopped by about two years ago and it was just a bunch of old sex toys on exhibit. So, upgrade from that. I think that I would love to see more cohesion in terms of the exhibits and how they relate to each other. I think that having the exhibit have the connecting factor being only sex didn't really meld any of the pieces together. In terms of the Leonor Fini exhibit, I loved seeing her art and learning about her. I also appreciate that she was a costume designer because I hadn't heard of her before this exhibit. Hope you enjoyed my thoughts on the Museum of Sex. Let me know if you have ever been there or if you have a museum in NYC you have heard about that I should go to!
Talk soon!
Tiffany