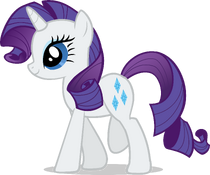 Rarity is my favorite on My Little Pony and if you watch just one episode, her actions will explain me almost down to the last molecule. I cannot tell you how much I am like her and I am also a designer so it is crazy how close we are in personality! I think that the only difference is really that she is more outgoing that I am.

Okay, normally I don't style the homes of the "Style Me" subjects but this literally speaks "Rarity"! I love that it shines and is over the top, much like Rarity is when she exaggerates a situation.

Modern day cutie mark? I think so! I love that this is made of pearls so it has a lot of elegance exuding from it and it has a diamond center!

Rarity is a fashion designer so she knows what is on trend and what isn't. I love that this has a lot of sparkle and isn't too over the top because although Rarity wants to impress, she isn't going to look garish.
-The Mermaid Network