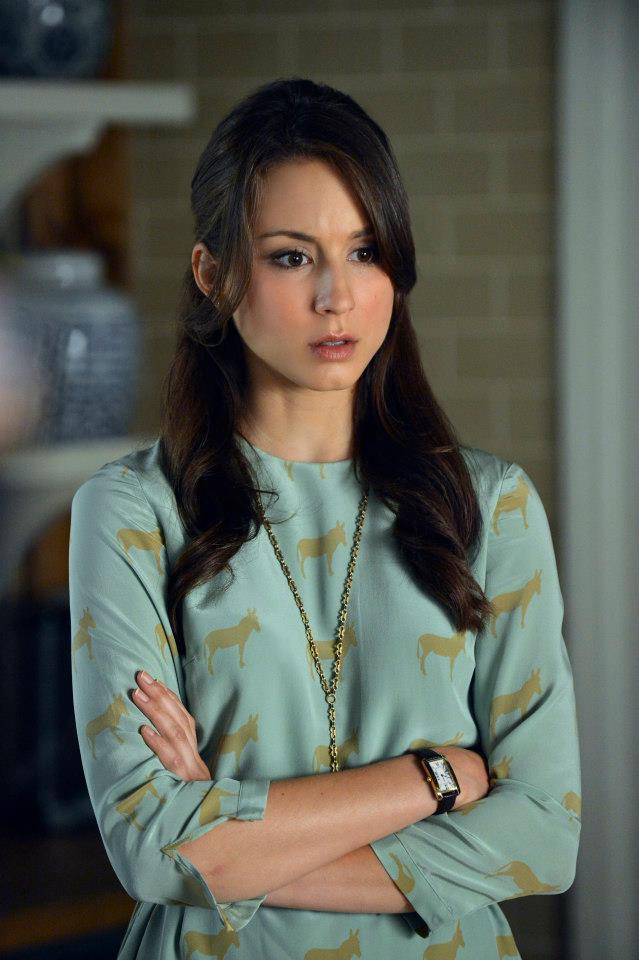 [Pretty Little Liars Wiki]
I will admit that when Pretty Little Liars started that Spencer was just untouchable in the sense that I couldn't quite connect with her character. She had a family who was well off and cared so much about school that it would make anyone's brain hurt. I admired her though and watching her progression through the show she has grown to one of my favorites along with an impeccable sense of style that hasn't changed too much. I would definitely describe Spencer as the preppy one of the bunch and not in a bad way, she has expensive and classy taste but you don't see labels and that is partly due to advertising and all of that.

A very simple outfit but is definitely something I could see Spencer wearing. I know that she dabbles in prints but we generally see her in solids.

I am pretty sure that there has been an episode where Spencer is wearing something like this but the pearl necklace really does it for me. Since the most recent season has the girls looking at colleges, this one hit me that I could definitely see Spencer wearing this because it adds sophistication to a simply comfortable outfit.

Also something that Spencer could be seen wearing on campus and even at Rosewood. I love that this has the "school girl" feel without becoming a stereotype in a bad way.
What is your favorite Spencer Hastings outfit or moment on Pretty Little Liars?
-The Mermaid Network